Big Oil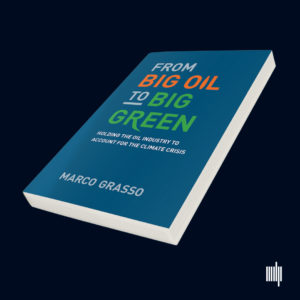 From Big Oil to Big Green
Holding the Oil Industry to Account for the Climate Crisis
How Big Oil can transform itself into Big Green through reparation and decarbonization to rectify the harm it has done through fossil fuels.
MIT Press, 2022
(The Chinese translation will be published on 27 November 2023)
Free download here: https://mitpress.mit.edu/books/big-oil-big-green
Book launch, University of Stavanger, 4 May 2022
From Big Oil to Big Green examines the responsibility of the oil and gas industry for the climate crisis and develops a moral framework that lays out its duties of reparation and decarbonization to allay the harm it has done. By framing climate change as a moral issue and outlining the industry's obligation to tackle it, the book shows that Big Oil is a central, yet overlooked, agent of climate ethics and policy.
The book argues that by indiscriminately flooding the global economy with fossil fuels—while convincing the public that halting climate change is a matter of consumer choice, that fossil fuels are synonymous with energy, and that a decarbonized world would take civilization back to the Stone Age—Big Oil is morally responsible for the climate crisis. it explains that the oil and gas industry has managed to avoid being held financially accountable for past harm and that its duty of reparation has never been theoretically developed or justified. This book fills those gaps. After making the moral case for climate reparations and their implementation, the book develops Big Oil's duty of decarbonization, which entails its transformation into Big Green by phasing out carbon emissions from its processes and, especially, its products.
Endorsements
"A clear-eyed analysis of Big Oil's substantial responsibility for causing, perpetuating, and deepening the climate crisis, and therefore its commensurate duty to mitigate and pay reparations."
Richard Heede
Climate Accountability Institute
"Grasso shows why we must hold fossil fuel companies responsible for the climate crisis and lays out a science-informed path to accountability."
Peter Frumhoff
Chief Climate Scientist, Union of Concerned Scientists
"Grasso breaks new ground, perceptively specifying duties of financial reparation as well as decarbonization for differentiated categories of fossil fuel companies, imaginatively formulating precise mechanisms for their operationalization."
Henry Shue
Senior Research Fellow, University of Oxford
Reviews
Global Policy, by Daniel Delatin Rodrigues
H-Environment, by Anna Bettini
Klimaethik an den Grenzen realpolitischer Machbarkeit: Rezension zu "From Big Oil to Big Green:
Holding the Oil Industry to Account for the Climate Crisis" von Marco Grasso. Soziopolis: Gesellschaft beobachten (in German), by Karoline Kalke